Detroit Wedding Photo | Choosing a Photographer
Detroit Wedding Photo has helped numerous clients to choose the perfect Detroit wedding photographers for their big day, and here on this page you've got a completely free and concise guide to the entire process. The days of choosing a random photographer from the phone book are long gone, unless of course you want to be completely surprised with the results! There are good photographers and there are exceptional photographers, and none of us at Detroit Wedding Photo would want to see you settle for the latter. We're not photographers and we have no stake in what company you choose. We're simply in the business of providing you with accurate and helpful information.
The first thing that Detroit Wedding Photo recommends is to take a look at your potential photographer's past work. Whether you're working with a professional or a friend of the family who claims to be an amazing photographer, you want to SEE what they have done with a similar type of event. Wedding photography is completely different from typical everyday photography, and you want to make sure that your Detroit wedding photographer really knows how to capture the love in someone's eyes and how to direct the bride and groom into the perfect poses in the perfect settings. Detroit Wedding Photo does not recommend choosing someone who has never photographed a wedding before, in any case! The experience might be great for them, but not so great for you. Remember, this is a once in a lifetime event. Do your due diligence and check their credentials and portfolio!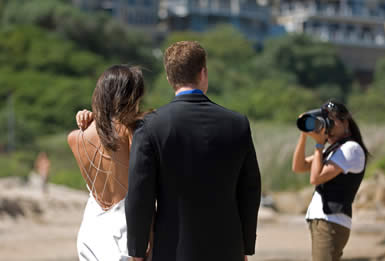 The questions that you'll want to make sure that you ask include the length of time that the photographer has been shooting weddings, how many nuptial ceremonies they have photographed over the years, and whether this is their primary source of income or just a part-time gig. It's especially advantageous if they have done wedding photography at your Detroit wedding venue in the past, because that means they've got experience with the lighting and the best places in which to shoot your photos. It's not essential, but it's definitely a plus.
Something you may not realize is that some wedding photographers specialize in color shots and some specialize in black and white. If you have a strong preference for color or black and white, or if you'd like some of both types, or even special effects done in post-processing on a computer, be sure to speak with them about this far in advance. Look at their portfolio to see if their overall style is more formal or more relaxed, and see that it fits in with what you're after. Everyone couple has their own particular style, and you want to make sure that your Detroit wedding is really captured in photography in the way that you have always envisioned it.
Of course you'll want to speak with your wedding photographer about things like prices for reprints and albums. You'll want to find out what the time frame is for the availability of those things, as well as the length of time that the photographer is willing to stay at your ceremony and reception. For night owls and late partygoers, you'll need to ensure that your photographer is willing to endure those late hours! Be sure to actually read your contract so that there won't be any surprises. Get an emergency contact number for your photographer too, just in case, and give them yours as well.
If you follow all of the above tips courtesy of Detroit Wedding Photo, you're sure to choose a photographer that is worthy of shooting your unforgettable wedding day. If you'd like to take a look at some of our top recommendations for local wedding photographers, take a look at our dedicated page for that via the links at the top of the page! Again, we have no stake in who you choose. We've just done the research for you, to make your search for great photographers that much easier. Next up, 10 Must-Have Wedding Photos!